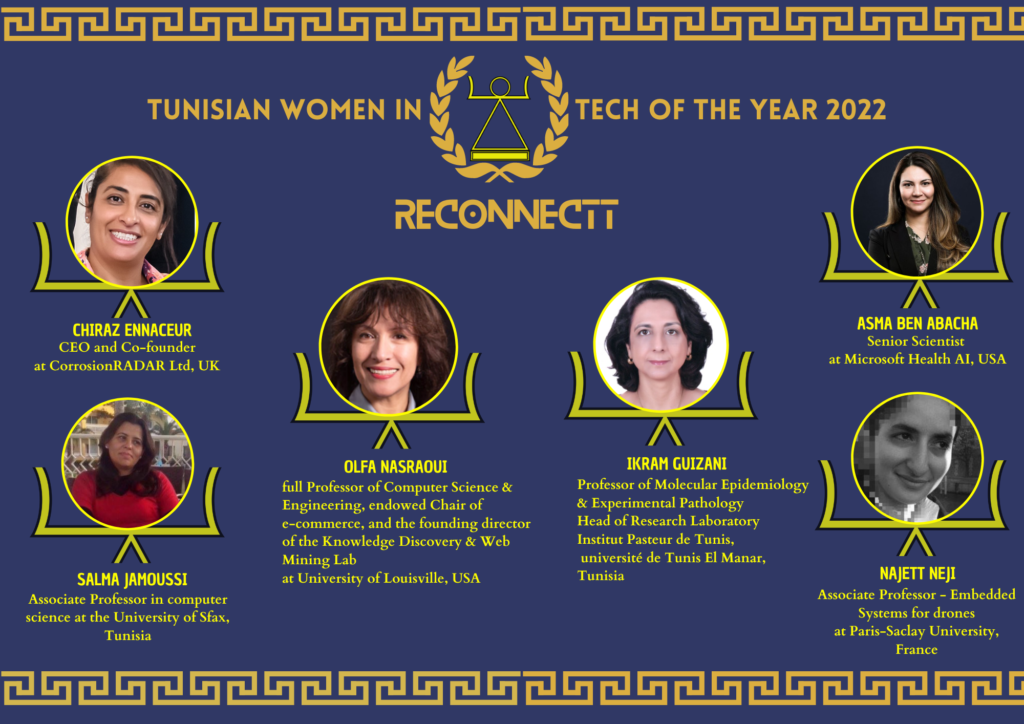 The Tunisian association RECONNECTT gathering all the Tunisian competences throughout the world (based in France) has the honor to announce the designation of the six Tunisian women laureates in technology for the year 2022.

The designation of the laureates is based on their overall professional career, scientific publication and commitment to Tunisia.

The choice this year is made on six scientific personalities and the professional world who have contributed through their work, projects and achievements to the influence and renown of Tunisia in the fields of AI, Data, Industry X.0, Biotech, Fintech, Agritech, Embedded tech, etc. …

The vote was conducted by its active members and its ambassadors around the world.

Olfa Nasraoui
full Professor of Computer Science & Engineering, endowed Chair of e-commerce, and the founding director of the Knowledge Discovery & Web Mining Lab at University of Louisville, USA

Ikram Guizani
Professor of Molecular Epidemiology & Experimental Pathology Head of Research Laboratory Institut Pasteur de Tunis, University of Tunis El Manar, Tunisia

Dr. Chiraz Ennaceur
CEO and Co-founder at CorrosionRADAR Ltd, UK

Dr. Asma Ben Abacha
Senior Scientist at Microsoft Health AI, USA

Salma Jamoussi
Associate Professor in computer science at the University of Sfax, Tunisia

Najett NEJI
Associate Professor – Embedded Systems for drones at Paris-Saclay University, France

The biographies will be published on our Linkedin and facebook pages RECONNECTT and our website.

Congratulations !