WIDS TUNISIA@RECONNECTT : Tunisian Women & Data+AI Summit 2023 2nd Ed
May 4 @ 10h30

-

May 5 @ 17h00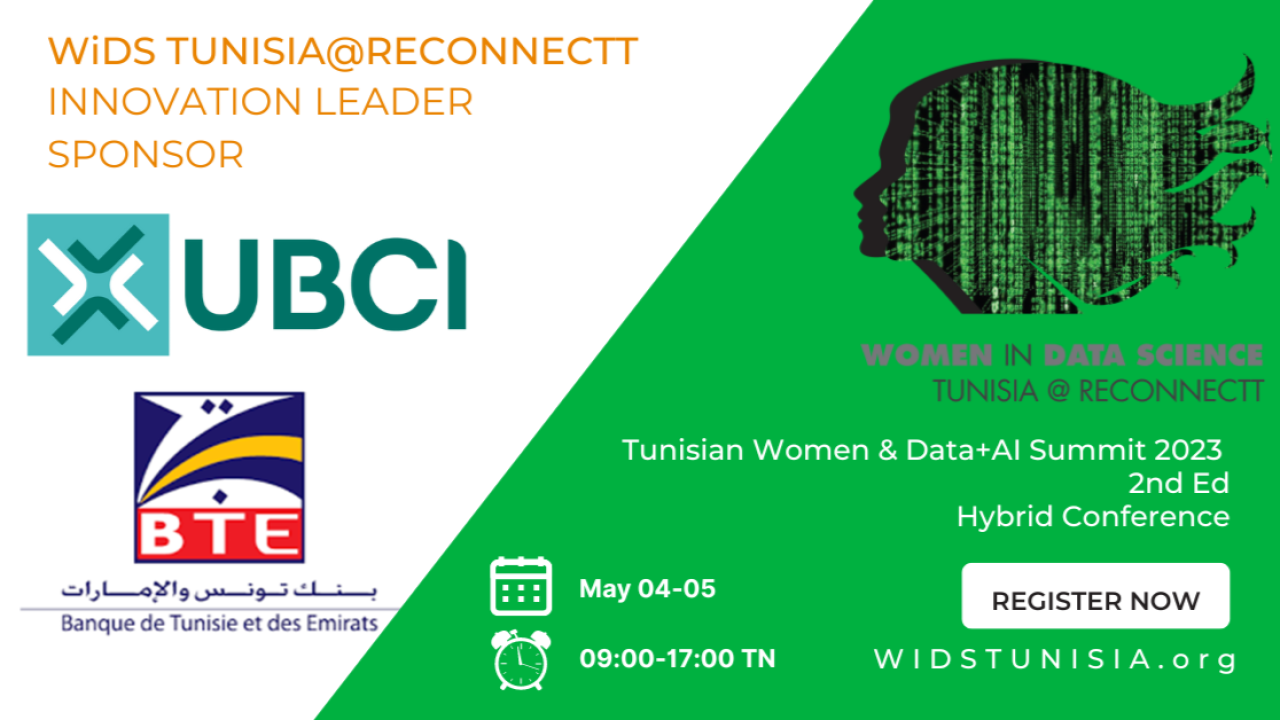 The RECONNECTT Association is excited to partner with Stanford University to bring the second edition of Women in Data Science (WiDS) regional event to Tunisia. This edition is entitled : Tunisian Women & DATA + AI Summit 2023
WiDS TUNISIA@RECONNECTT is an independent event that is organized by RECONNECTT association.
It is part of the annual WiDS Worldwide conference held at Stanford University and an estimated 200+ locations worldwide, which features outstanding women doing outstanding work in the field of data science. Everyone is invited to attend all WiDS Worldwide conference events.
Our event will be held on May 04 & 05 2023 in hybrid mode.
Our aim through this event is to encourage, motivate and promote AI among young women, also, to inspire different generations to use AI in their fields of activity.
We wish to promote these technologies and initiate a new dynamic of knowledge in all economic sectors in Tunisia.
It will be publicized through Tunisian and African magazines and newspapers and some radio stations.
Our main goal is to promote the integration of young people and especially women in the digital world.
Talk in French or english, slides in english
20-30 min + 10 QA
This conference is organized by the Tunisian association based in France: RECONNECTT (former Re*connectt)
Join us be RECONNECTT member :
30 euros /an
10 euros /an student
https://www.helloasso.com/associations/reconnectt/adhesions/campagne-d-adhesion-2023
RECONNECTT is a Tunisian association based in Paris which gathers highly skilled Tunisians from all over the world. Its objectives are:
-Boosting Tunisian women in science and technology in Tunisia and abroad;
-Promoting scientists, researchers, experts, leaders and talents;
-Valuing the cultural and heritage capital in Tunisia and in the world;
-Developing North-South and South-South partnerships in the Mediterranean in new technologies.
Example of our past events:
-The Tunisian Finance Days 2022 2nd Edition November 03 & 04:
https://www.tunisianfinancedays2022.org/
-The Tunisian Women and Data + AI Summit 2022 from March 17 to 19:
With Women in Data science (WIDS) from Stanford University
https://www.widstunisia.org/home
On the Way to our Talents in North America initiative :
The first panel organized in June 23 2022 :
How to succeed in your studies and have a rewarding career in the USA?
The second panel organized in September 22 2022 :
They founded their company in North America
The third panel organized in January 26 2023 :
They are Working at NASA
The fourth panel organized in March 09 2023 :
They Excel in medicine and health sciences
For more information:
Linkedin: https://lnkd.in/dc6jam6t
Facebook: https://lnkd.in/dWeuj9R6
Youtube: https://lnkd.in/ds5gNEmZ
website: https://reconnectt.org
Kind Regards
Dr. SAMI AYARI
Founder and President of RECONNECTT